The checkra1n jailbreak tool was released two years ago and is still relevant because its exploit cannot be fixed with a system update. The exploit is relevant for A7-A11 devices (up to iPhone X).
Officially, the checkra1n tool only supports versions up to iOS and iPadOS 14.5.1, but it can be used to jailbreak other versions of the system. You can use iOS 14.6-14.8.1 jailbreak tool on A7-A11 devices. We'll show you how to do it below.
Jailbreak unsupported iOS and iPadOS versions with checkra1n
Using the checkra1n tool, you can hack almost any version of iOS and iPadOS, as long as it is on a supported device. These are devices with A7-A11 processors, i.e. from iPhone 5s to iPhone X. Even Apple TV can be hacked with the checkra1n tool.
However, we do not just write "almost all", and not all versions of iOS and iPadOS. At the moment, checkra1n 0.12.4 is the latest version of the tool available. Officially, it supports iOS and iPadOS versions 12.0-14.5.1. However, it can also be used to hack other versions of the system. For example, iOS 14.8.
How? When you connect a supported device with an unsupported system version to your computer, checkra1n will recognize the device, but will display a message stating that it is not supported. It looks something like this: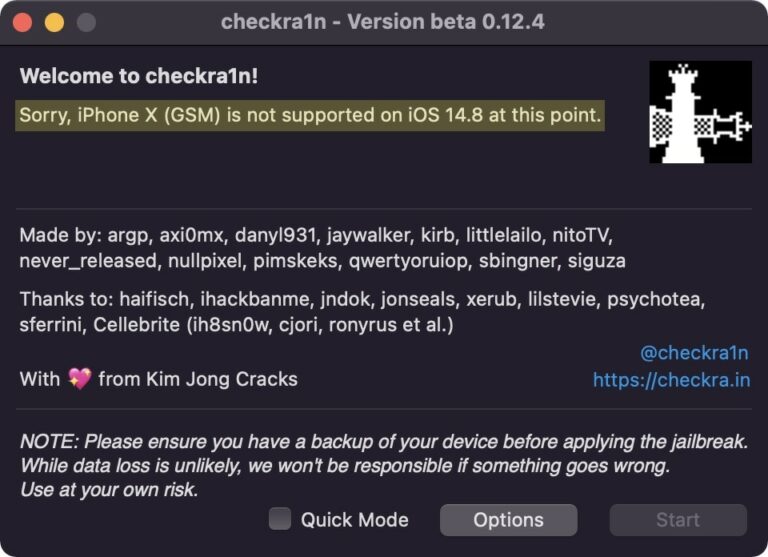 In this case, press the button Options and check the box next to the option "Allow untested iOS/iPadOS/tvOS versions":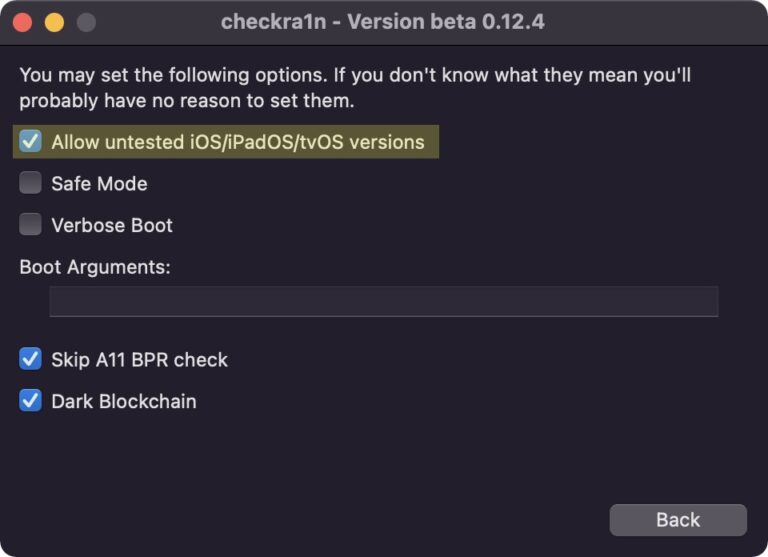 Important: If you have an A11 device (iPhone8/8 Plus or iPhone X), then you should also enable the "Skip A11 BPR check" option. It is important to note that after jailbreaking these iOS 14 devices, biometric authentication does not work on them. Luckily, the lockdown jailbreak tweak can replace it.
The main interface of the tool should display something like this: "iPhone X (iOS 14.8) connected in Normal mode. WARNING: iPhone X on iOS 14.8 is only partially supported, continue at your own risk":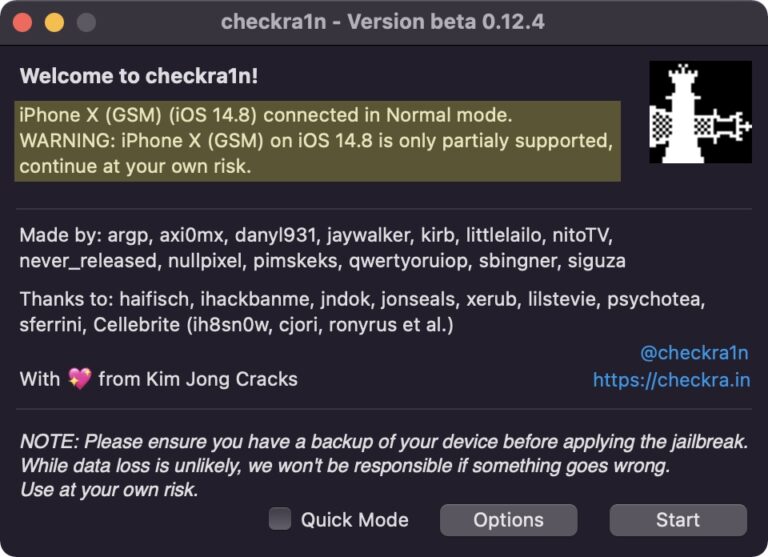 Now you can jailbreak your device as usual. Of course, at your own risk. The jailbreak should work fine, at least on iOS and iPadOS 14.8.
Why "virtually all" versions and not all?
It turns out that using the checkra1n tool, you can easily hack newer versions of the system without waiting for its update to be released. So why "virtually all" and not all?
On devices with iOS 15, the checkra1n jailbreak does not work well so far. This version has new restrictions. While the update didn't fix the tool's exploit, it interferes with other elements of the jailbreak. That is why the tool needs to be updated for iOS 15.
It is known that work on support for iOS 15 and iPadOS 15 is already underway. However, it is not yet clear when the new version of the tool will be released.
So for now, we recommend using the method described above only for devices with iOS and iPadOS 14.6-14.8.1.
What if you have iOS 15 or iPadOS 15?
If your A7-A11 device is running iOS 15 or iPadOS 15, the checkra1n tool does not support it yet.
This is not because the update fixed a tool exploit. The work of other elements is disrupted. The development team needs to slightly change the logic of the tool so that it starts supporting iOS 15.
You should be patient and avoid subsequent system updates.
In the future, the checkra1n jailbreak will support A7-A11 devices with iOS 15 and iPadOS 15. It is also possible that another jailbreak tool for these versions will be released even earlier.